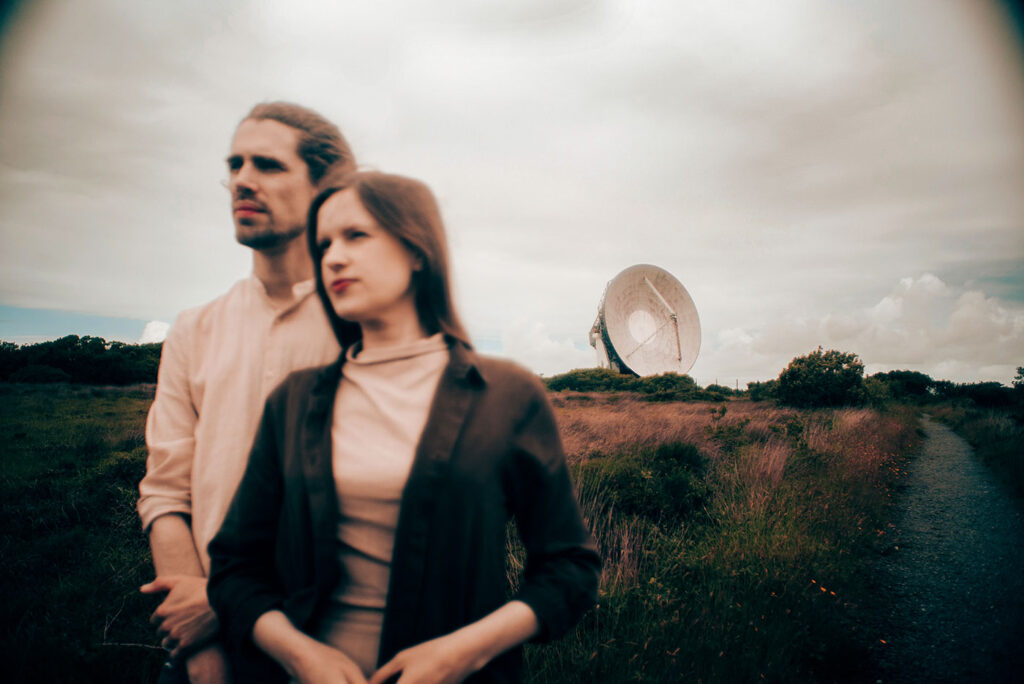 Sign on the Door is Dora Lachaise and Jonni Slater's first joint single. The song was sparked by Jonni's love for Cold War era novels and films, with his character on the run from Dora's determined agent of the law. The track is co-produced by James Sanger (Keane, Dido), who invited the duo to come and work with him at his recording studio in northern France.
Dora Lachaise's haunting vocals take centre stage in her dark and otherworldly music. She is inspired by Victorian cemeteries and the visual arts. Her solo work has been played by BBC Introducing in the West, BBC Upload and Amazing Radio.
Jonni Slater paints dark scenes with his warm, husky vocals, vintage keyboards and cinematic production. He won first place at the Sensoria Scoring Contest of 2020 and has subsequently worked on the short film "SWAT". His love for the cinematic also led him to create videos to accompany the songs he wrote with Dora.
Both artists moved from Bristol to Glasgow last year, inspired by the online Sunday Songwriting group run by Becci Wallace and Rosie Bans.
Sign on the Door is the first single from Weather Balloons, Dora and Jonni's forthcoming EP with accompanying short films. They'll launch the EP with an immersive experience of live music and film at The Old Hairdresser's in Glasgow on 8 June 2023. Like discovering a forgotten analogue TV station where strange songs are the soundtrack for grainy arthouse movies… Becci Wallace and Ember Quine (Freya Giles) play support.
The music video: a cat-and-mouse chase across Europe. From the forests of Latvia, via Riga and Tallinn, to the open ground of Dartmoor, winding up languishing in a cell at Shepton Mallet prison.